Cameroon:PM, Ministers Attend Mass In Honour Of Benedict XVI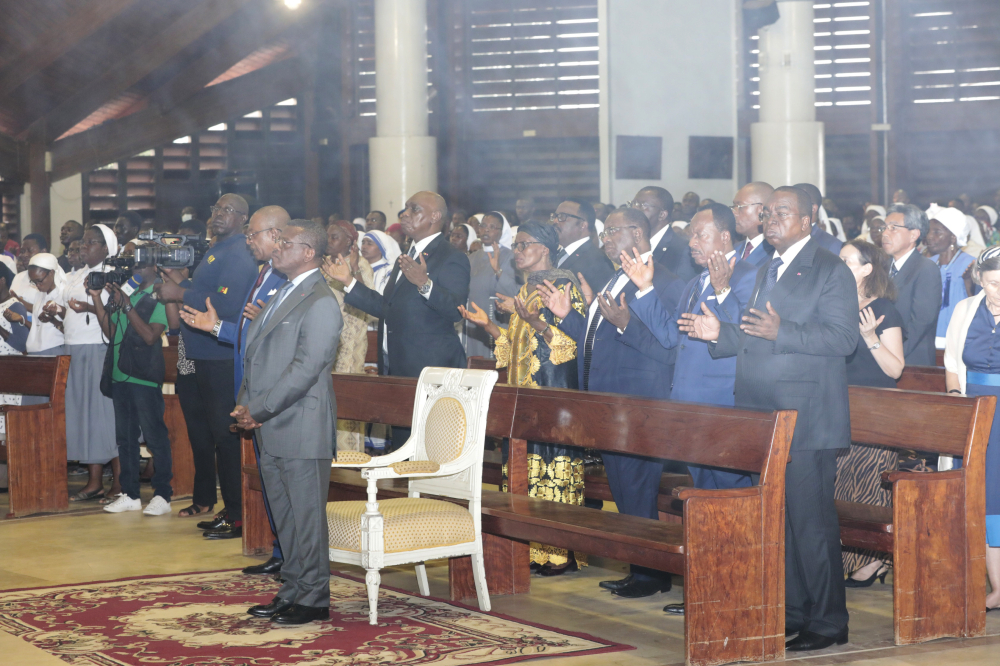 The Head of Government joined other Catholic faithful a few days ago to say final prayers for the former head of the Roman Catholic Church who was laid to eternal rest at the St Peter's Basilica on January 5
Prime Minister Dr Joseph Dion Ngute on Thursday January 5 attended a pontifical mass at the Mary Queen of the Apostles minor Basicilia in Mvolyé to join in prayers for the peaceful repose of the soul of Pope emeritus Benedict XVI.
The mass which was presided at by the metropolitan Archbishop of Yaounde, His Grace Jean Mbarga, was also attended by members of cabinet, other top state officials as well as scores of clergy and the laity.
During the mass which took place the same day the erstwhile Holy Father was buried, His Grace Jean Mbarga extolled the qualities of the former head of the Roman Catholic Church and called on the faithful to continue to pray for the peaceful repose of his soul.
"The memories of the Pope Emeritus Benedict XVI will for a very long time remain engraved in our hearts and in the history of the church. If there is one thing he thought us, it's about innovation in continuity. He was neither a conservative nor a progressive. He did everything to make sure that the church remained united in its faith, its history and its growth. He didn't close the door to new ideas. He however also didn't forget the tradition of the church in which ever situation," said His Grace Mbarga after the mass.
The late Benedict VXI was buried in the crypt beneath St Peter's Basilica after a funeral mass which saw the presence of at least 50,000 people.
Benedict died on December 31 at the age of 95, and after many days of sickness. Archbishop Joseph Ratzinger, as he was known before his papacy, was the first pope in 600 years to resign. He was also the first pope in the modern history of the Catholic Church to be buried by his successor.
Among the world leaders who sent condolence messages to the Vatican following the former pontiff's death was President Paul Biya. The Cameroonian leader recognised him as one of the best theologians of his time and called him one of the great figures of the Roman Catholic Church.
The deceased pope is also remembered for his trip to Cameroon in March 2009, one of his few visits to Africa during his eight-year papacy.
Related Articles