ICT University: President Obasanjo Tells Graduates To Be Entrepreneurial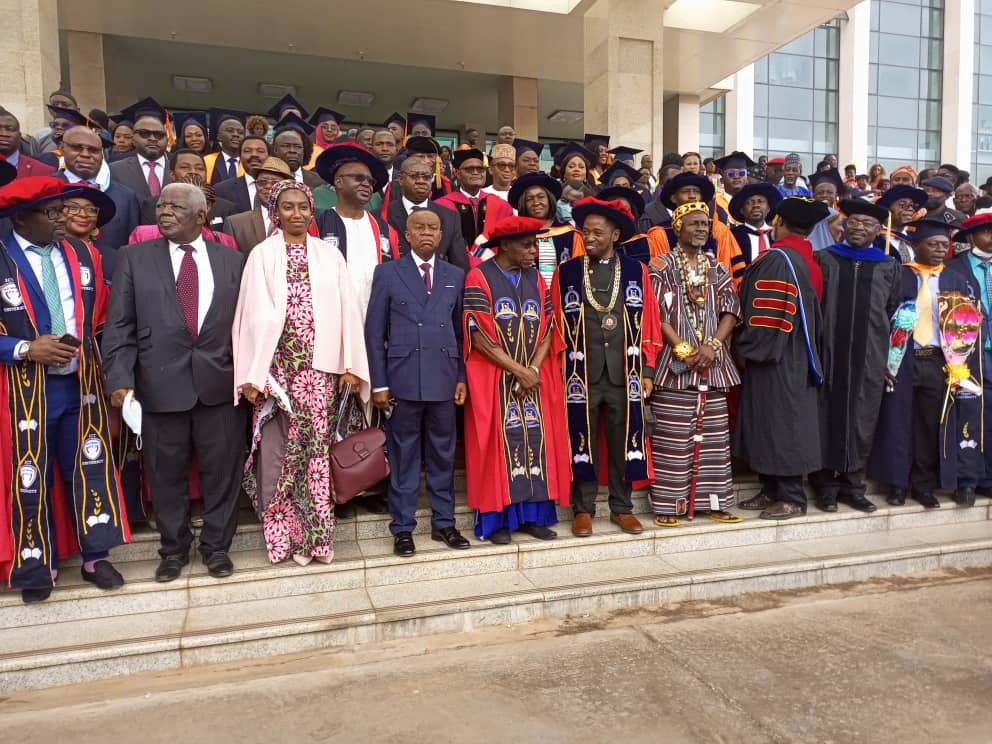 ICT University graduation
They have been urged to make the most of the ICT skills they acquired throughout their training programmeso as to positively influence their communities
Former Nigerian President Mathew Olusegun Obansajo has called on the sixth batch of graduates of the Information and Communication Technology University, ICTU,to explore the skills imbibed in them so as to work toward the development of their communities.
The erstwhile Nigerian leader made the call as he delivered a keynote address inside a packed auditorium of the Yaounde Conference Centre on July 31 on the occasion of the sixth commencement ceremony of the tertiary training institution.
A total of 300 graduates, 13 of which bagged a PhD, were symbolically handed their certificates of graduation amid shouts of joy from accompanying loved ones. The learners graduated with degrees from different fields of study including Engineering, Management, Education, Public Health, and Information and Communication Technologies.
The ceremony was attended by high profile guests including three sitting government ministers as well as former top government officials, academics, parents of the graduating students as well as hundreds of other guests. Some of the graduating students also virtually partook in the graduation ceremony from other locations out of the country.
Also speaking during the ceremony, the Minister of State, Minister of Higher Education, Prof Jacques Fame Ndongo, congratulated the ICT University on its role in contributing to the development of Cameroon through the training of young Cameroonians in fields that enable them positively impact their communities.Other speakers such the President of the Board of Trustees of the University, Prof Victor Mbarika, also spoke about the university, the plans and perspectives for the future.
The graduation ceremony was crowned with the official inauguration, by President Obasanjo, of the University's ultra-modern campus located at the Nomo neighbourhood in Yaounde.
The Information and Communication Technology University is a Pan African University created in 2012. It has campuses in several developing countries around the world, with headquarters in Yaounde. It has trained over 20,000 students since its inception.
Related Articles