Cameroon's Humanitarian Situation: FCFA 244B To Aid 2.7M People In Dire Need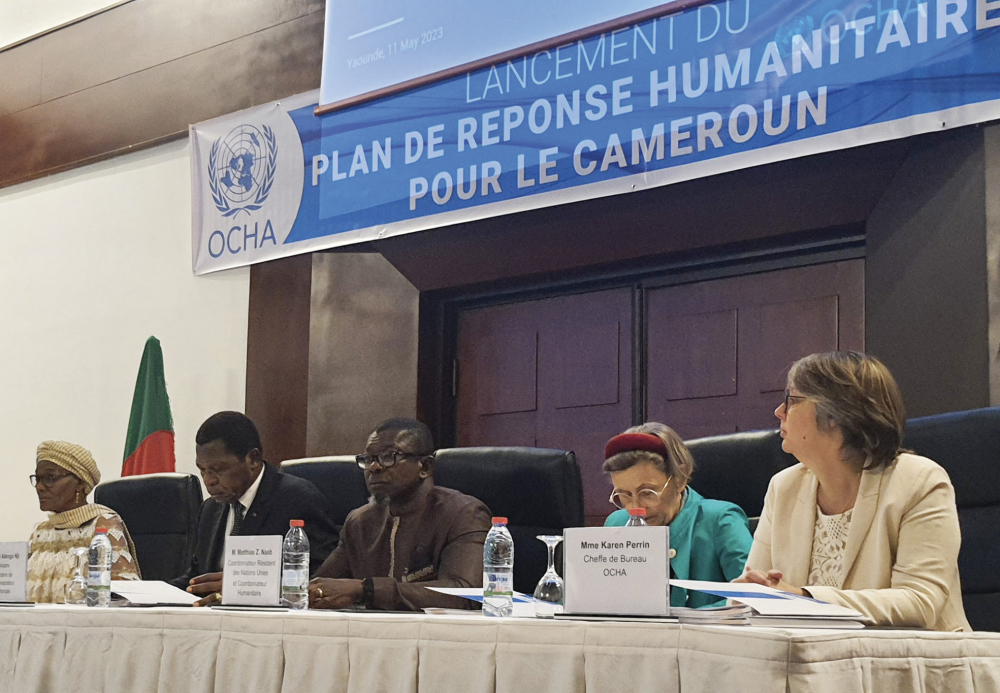 Matthias Naab (middle) during the launch of the humanitarian response plan
The funds expected from donors are meant to provide emergency assistance, life-saving protection interventions to the most vulnerable population, support livelihoods and resilience to ensure that affected women, men, girls and boys can meet their basic ne
Despite multi-stakeholder efforts being made to address the humanitarian situation in Cameroon, the United Nations says about FCFA 244 billion is required to respond to some of the pressing needs of forcibly displaced persons in the country this year.
This figure was disclosed during an event in Yaounde Thursday May 11 to launch the humanitarian response action plan for 2023 in Cameroon.
The event was presided at by Territorial Administration Minister Paul Atanga Nji and saw the presence of his cabinet colleague of Women's Empowerment and the Family, Marie-Thérèse Abena Ondoa.
Speaking at the ceremony, the United Nations Resident Coordinator and Humanitarian Coordinator for Cameroon, Matthias Z. Naab, said a total of 4.7 million people need humanitarian assistance in Cameroon at the moment, but the FCFA 244 billion solicited from donors is needed to meet the urgent needs of 2.7 million people especially refugees and internally displaced persons (IDPs) faced with the most critical humanitarian challenges.
"The humanitarian community will provide emergency assistance, life-saving protection interventions to the most vulnerable population. It will support livelihoods and resilience to ensure that affected women, men, girls and boys can meet their basic needs," said Naab.
"Priority will be given to intervention for those in greatest need including internally displaced persons, returnees, refugees and host communities who continue to generously open their homes to those in need," he added.
Looking back at the plan for 2022, the UN official said they were able to support about 1.5 million people with humanitarian assistance in different parts of the country in the form of healthcare, education, food and potable water. He said this was done despite the litany of challenges faced on the ground including attacks on humanitarian workers.
For his part, Atanga Nji expressed gratitude to the UN for the collaboration and support given to government in responding to the needs of those in critical need.
"From all indications, we still have humanitarian challenges in our country and in our sub region. We still need to mobilise our partners in order to provide adequate solutions to the needs of these vulnerable population," he said.
He also gave updates on the execution of the national humanitarian response plan instituted by the President of the Republic in 2028 to respond to the needs of forcibly displaced persons in the two English-speaking regions.
Related Articles