SDF At 33: Party Promises More Beautiful Political Pages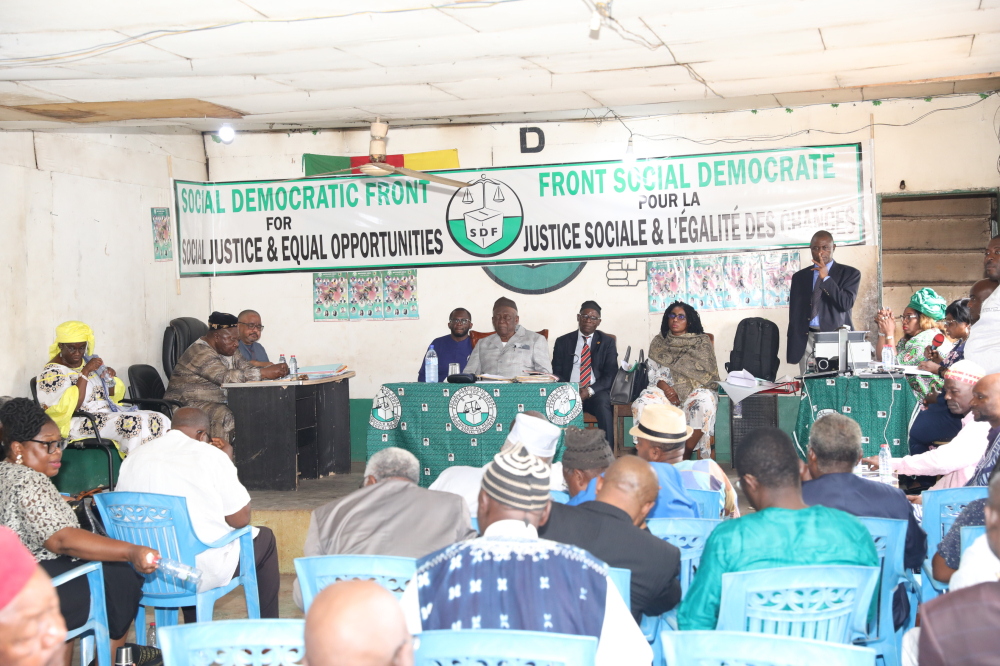 The party's first national Vice President Hon Joshua Osih, in a message, reminded comrades that the challenge of keeping their fight for the protection and promotion of fundamental values alive remains huge as the outfit grows older
The opposition Social Democratic Front (SDF) party turned 33 on Friday May 26, with a pledge by its leaders to write even more glorious pages of the outfit's history. The party was launched in Bamenda on May 26, 1990.
At the party's headquarters in Yaounde, an event was organised to mark the day with party members, supporters and sympathisers gathering to reflect on the way forward for a party which has been bedevilled by many forms of challenges in the last couple of years.
In a keynote message to members of the party on the occasion, the first national Vice President and Questor at the National Assembly, Hon Joshua Osih, said the deep challenges faced by the party in the past couple of have years, have only acted like fire, which is required to refine gold.
"Today, we proudly celebrate the 33rd anniversary of our party. After more than three decades serving Cameroon and Cameroonians, fighting for freedom and democracy, we can be very proud of our accomplishments. History is on the move and continues to be written thanks to you, and I am certain more beautiful pages are yet to come," Osih's opening statement reads.
"These challenges, as difficult as they have been, have provided very unique opportunities for us to learn, rebuilt ourselves, teach but above all, to remain steadfast in our resolve in building a better and stronger Cameroon," it adds.
Speaking about the recent process to reorganise the basic organs of the party ahead of the elective congress billed for July, Osih thanked party comrades for the success of the process saying "it showcased the robustness of the party by our nationwide participation during the national day celebrations, preparations for the anniversary of our great party and most importantly the excitement of our upcoming 10th ordinary national convention."
Osih said at 33, the challenge of keeping their fight for the protection and promotion of fundamental values alive remains huge, given the many huddles that stand on their way including what he called the "regime's determination to keep manipulating the masses."
According to Osih, one of the ways of delivering this promise is by contributing to ensure change at the ballot box, and which can only be done by citizens turning out in huge numbers to vote whenever elections are called. But before then, people have to register to vote.
"Let us together mark this anniversary by taking up the challenge to register at least 33 new voters each over the next 98 days that remain before the closing of the electoral register for the year," Osih urged.
On the upcoming convention which is scheduled to take on July 28 and 29 in Yaounde, Osih said it was an important moment in the life of the party, and urged fellow citizens to properly mobilise for it. This, he said, will contribute to the change which all well-meaning Cameroonians want to see.
Related Articles