Cameroon:Real Business Begins At National Assembly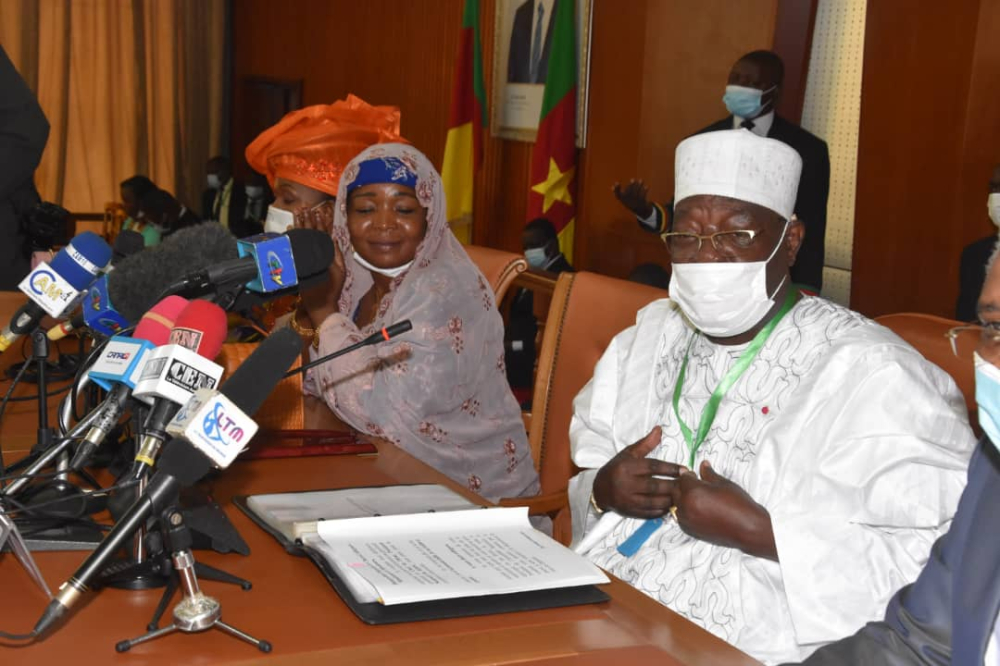 Hon Cavaye Yeguie Djibril expressed gratitude to his peers and to the President of the Republic, Paul Biya, for his smashing re-election
Hon Cavaye Yeguie Djibril was last Friday, March 18 re-elected as President of the National Assembly in an exercise meant to constitute the Bureaus of the lower parliamentary chambers for the next one year.
His election means serious parliamentary business can now start in both Houses since the March session rumbled off on March 11.
Hon Cavaye was unsurprisingly chosen again by his peers to steer a 23-man bureau which was largely unchanged from the previous one. Although he had a challenger in SDF MP, Hon Jean Michel Nintcheu, Hon Cavaye earned a smashing win by 148 votes as against one for his rival. There were 12 null ballots.
The senior Vice President, Hon Hilarion Etong, was maintained by 145 votes, with 14 null votes registered. Hon Mary Muyali Meboka also made her entry into the bureau as one of the five vice presidents, in replacement of Hon Emilia Monjowa Lifaka who died last year.The only other change in the bureau was the replacement of Hon Collins Dooh as one of the Secretaries.
In summary, the 23-man bureau is made up of a President, Senior Vice President, five Vice Presidents, 12 Secretaries and four Questors.
In a terse statement after the election, Hon Cavaye Yeguie Djibril expressed gratitude to the President of the Republic for the confidence once more renewed. He also thanked his peers of the House for believing in him as well, and promised not to disappoint them saying he has never done so before.
Meanwhile, according to the official schedule of business released by the secretariat of the National Assembly, real business is set to begin today.
A plenary session is expected this morning from 9:00 am in which we gather the various House Committees and Groups will be constituted. Then a chairmen's conference will follow later at 2:30pm before a plenary in which some government bills will be communicated, comes on 30 minutes after.
Permanent Bureau Members – National Assembly
President: Cavaye Yeguie Djibril (CPDM)
Senior Vice President: Hilarion Etong (CPDM)
Vice Presidents:
BaoroThéophile (CPDM) Kombo Gberi (CPDM) Datouo Théodore (CPDM) Abba Alim (NUDP) Mary Muyali Boya epseMeboka (CPDM)
Questors:
Kamssouloum Abba Kabir (CPDM) BekonoEbah Pauline epse Ndoumou (CPDM) Njingum Musa Mbutoh (CPDM) Joshua Osih (SDF)
Secretaries:
Silikam née Manamourou Isabelle (CPDM) Djomgoue Paul Eric (CPDM) Nkodo Dang Roger (CPDM) Toukam Angèle Tela epse Sandio (CPDM) Nanga MefanyBerthe epse Owono (CPDM) Saya Kaigama (CPDM) Lawson Tabot Bakia (CPDM) Mendoua Céline epse Atangana Aligui (CPDM) Aliyoum Fadil (CPDM) Elise Ndongo Moutome epse Pokossy Ndoumbe (CPDM) Libii Li Ngue Ngue Cabral (PCRN) Ndam (UDC)
Related Articles