Cameroon:CERAC Extends Humanitarian Outreach To Far North, North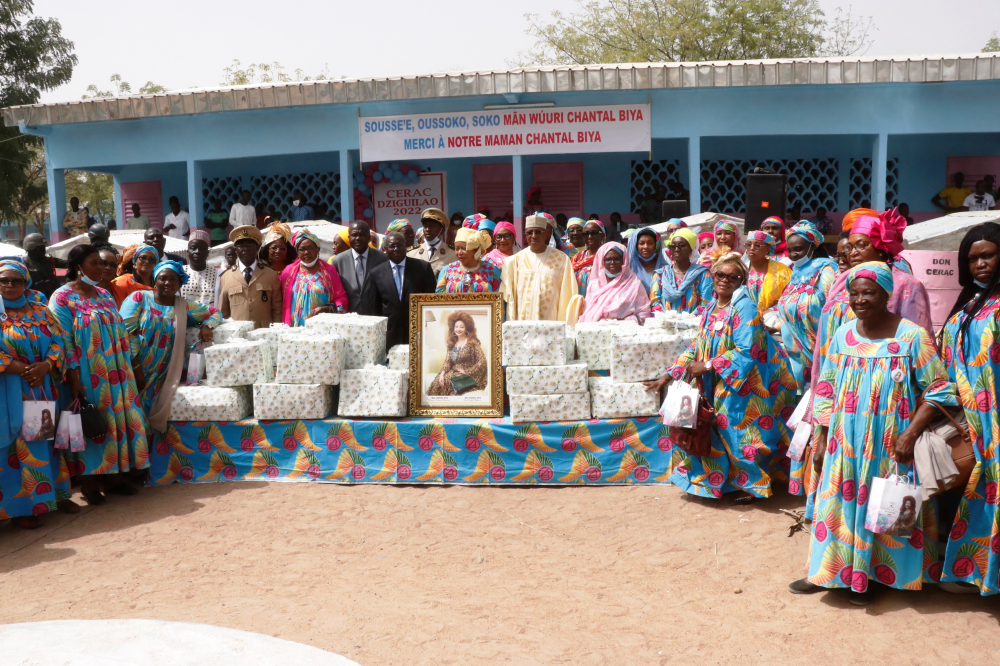 Chantal Biya's humanitarian outfit, the Circle of Friends of Cameroon over the weekend donated relief items to the needy as well as refurbished health district in the Far North, North Regions
Some vulnerable children and rural women in the Mayo Kani Division of the Far North Region and Mayo-Louti Division of the Far North Region have received food, school items and agricultural tools respectively from Mrs Chantal Biya's humanitarian organisation, the Circle of Friends of Cameroon, CERAC.
The donations were made over the weekend by CERAC's delegation led by its General Coordinator Dr Grace Dion Ngute sitting in for the First Lady.
CERAC delegation also handed over a district hospital in Mayo Ulo, Mayo Luti Division of the North Region - refurbished and equipped by the organisation.
Dr Grace Dion Ngute called on the beneficiaries to make good use of the gifts as more are still in the pipeline.
"I launch an urgent appeal for more solidarity and more humanism. Speeches and declarations of intent are certainly necessary but will never be enough to meet the many challenges that overwhelm our populations," she said.
Accompanied by North Governor, Jean Abate Edi'I, the CERAC delegation made a tour of the renovated health facility.
The refurbishment and re-equipment of the hospital will also solve the problem of sending persons to regional chief town of Garoua for treatment.
The services of the hospital are highly solicited by the inhabitants including people coming in from neighbouring countries. The recipients hailed the gifts as a timely response.
"Thank you Mama Chantal. Thank you very much," an inhabitant said.
CERAC was founded by the First Lady Mrs Chantal Biya, in 1995 to take an active part in the development of Cameroon by delivering much-needed assistance to the most vulnerable groups. CERAC, which is recognized as a public-interest association, comprises: a diplomatic component which brings together the wives of Ambassadors and High Commissioners accredited to Cameroon; a national component comprising members of government and persons ranking as such, officials of public and semi-public companies, wives of members of government, elected officers, etc. Since inception, CERAC has been working throughout the country, paying visits to patients, building schools to ensure the education of young Cameroonians, making donations to various hospitals and schools. CERAC also works against natural disasters, all forms of hardship and against HIV-AIDS. Mrs Chantal Biya is also UNESCO Goodwill Ambassador.
Related Articles