Cameroon:National Dignitaries Offer Best Wishes To Paul Biya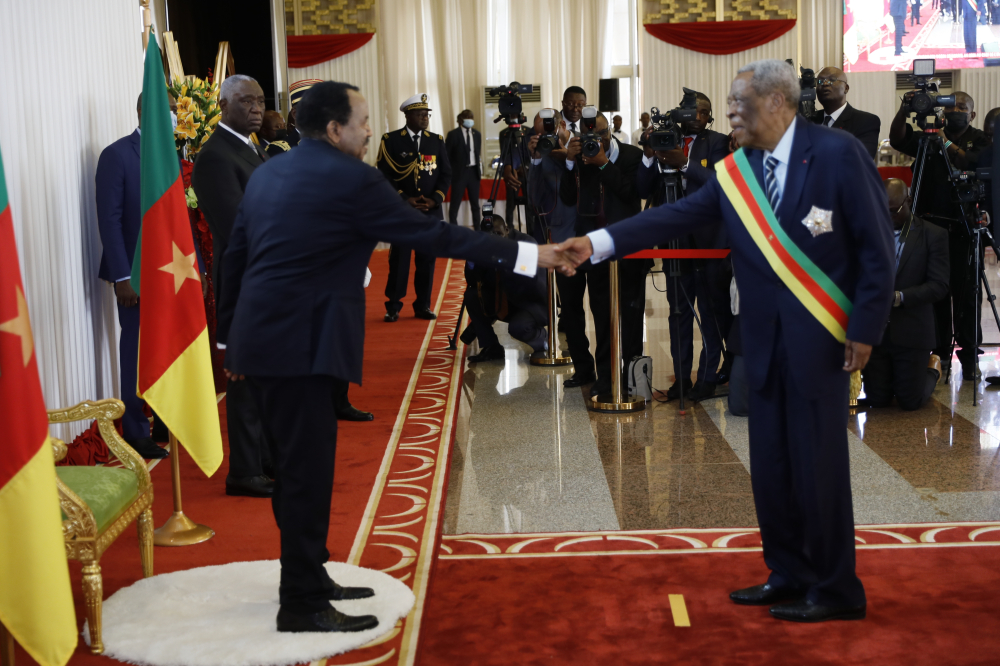 For about 30 minutes, the President stood up to shake hands with members of 35 delegations that came to wish him the best for the year just starting
The second part of the new year wishes ceremony at the State House last January 6 was also as solemn as the first and lasted about thirty minutes.
Members of the national constituted corps, from various sectors of national life, also took turns to say 'Happy new year, Mr President.'
This section of the ceremony started at exactly 3:00 pm when the President of the Republic walked into the Banquet Hall of the State House. After the President took his position, the Chief of State Protocol Simon Pierre Bikele then proceeded immediately to announce the first delegation, which was the bureau of the Senate. Senate President Marcel Niat Njifenji led the bureau members to shake hands with President Paul Biya.
Next was the bureau of the National Assembly led by its President Hon Cavaye Yeguie Djibril. The cabinet followed suit as Prime Minister Dr Joseph Dion Ngute led his ministers to express their best wishes for the new year 2023 to their principal.
After that, the delegations that followed included those of the Economic and Social Council, the Constitutional Council, the Supreme Court, the politburo of the Cameroon People's Democratic Movement, CPDM, leaders of political parties represented in the National Assembly and the Senate, representatives of some national syndicates, the National Anti-Corruption Commission, the National Disarmament, Demobilisation and Reintegration Committee, Rectors of the Universities of Yaounde I and II, the National Commission for the Promotion of Bilingualism and Multiculturalism, representatives of religious authorities , the National Communication Council, delegation from the United Councils and Cities of Cameroon, and a delegation of businessmen.
Others included a delegation from the Ministry of Defence and the military high command, the General Secretariat of the Presidency, the Civil Cabinet of the Presidency, the Grand Chancellery of National Orders, the Supreme State Audit Office, the Minister delegate in charge of Public Contracts and his team, the General Delegation for National Security, the Directorate General of External Research, Special Advisers at the Presidency, Roving Ambassadors, the Directorate of Presidential Security, the Presidential Guard and the State Protocol team.
Without being exhaustive with the listing, there were 35 delegations in all whose member shook hands with the Head of State, and the numbers were smaller than what has obtained in the past.
After the hand-shaking part of the ceremony, the President moved around for a while chatting with a few personalities, before taking his leave of the Banquet Hall, to put a cap on what was clearly a charged day for him.
Related Articles