Cameroon:Brazil Envoy Talks Of Broader Agric Cooperation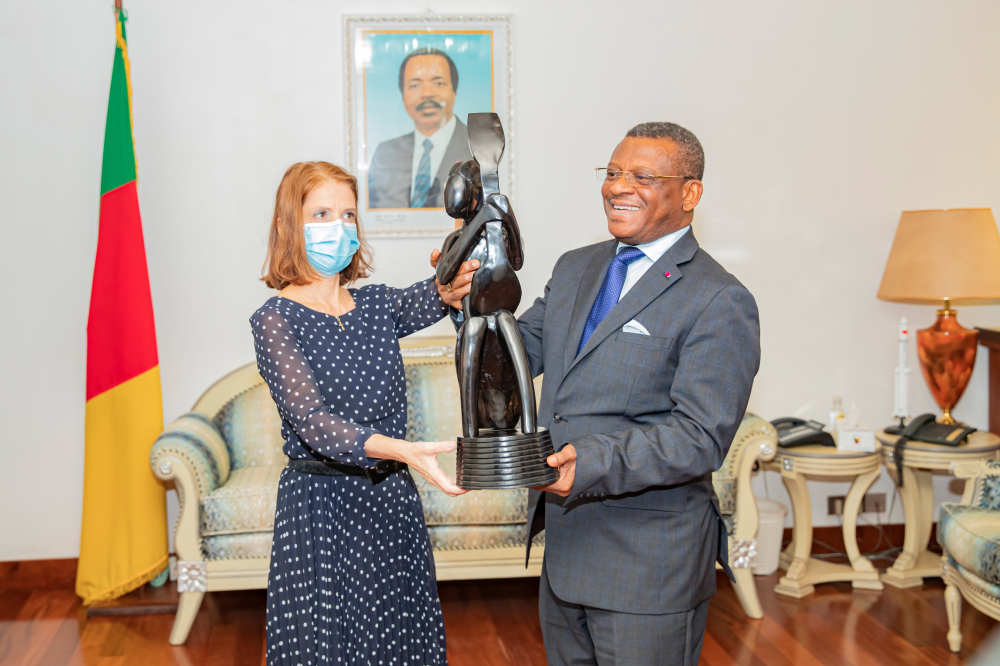 PM Dion Ngute- Brazil Ambassador
Says her country boasts significant expertise which it is ready to share with Cameroon to enable the country boost its agricultural prowess
The Outgoing Brazilian Ambassador to Cameroon, Her Excellency Vivian Loss Sanmartin, says she expects cooperation ties between her country and Cameroon to be expanded especially in the domain of agriculture where Cameroon has a lot to tap from Brazil.
The diplomat made the remarks as she met Prime Minister Dr Joseph Dion Ngute on Wednesday for a farewell audience.
During the meeting at the Star Building, the PM and the diplomat made a synoptic review of the work she did in Cameroon within the framework of fostering cooperation between Brasilia and Yaounde in the course of her nearly four-year stay in the country.
Speaking to reporters shortly after the meeting, the envoy said they talked about other aspects of the cooperation that links the two countries and how both parties can leverage the relations for more beneficial outcomes.
Underlining the aspect of strengthening cooperation in the domain of agriculture and livestock breeding, Ambassador Sanmartin said her country boasts of significant expertise in these domains, and it is open to sharing shame with Cameroon which is on the path of consolidating agriculture as one of its economic lifewires.
At the close of the cordial exchange with the PM, the diplomat was handed a symbolic gift in the form of a traditional carving, as a mark of Cameroon's legendary hospitality. She also used the moment to invite Cameroonians interested in discovering the tourist beauty of Brazil to do so anytime they want.
Telling reports about her memories of Cameroon, Sanmartin had some nice works for a country which she described as hospitable and blessed with many natural endowments. She said in the course of her work, she came across nice people and places that will remain ever engraved in her heart.
The Ambassador, recall, handed in true copies of her letters of credence to the President of the Republic, Paul Biya, on December 13, 2018, to officially kick start her diplomatic sojourn in Yaounde.
Cameroon and Brazil have longstanding bilateral relations which date back about six decades. Apart from the Brazil-Cameroon Joint Committee which is a platform for both countries to discuss issues aimed at advancing the ties between them, they also have a couple of cooperation agreements which cut across many domains including culture and tourism, trade, defence, and education, among others. The Brazilian embassy in Yaounde has existed since 1982.
Related Articles